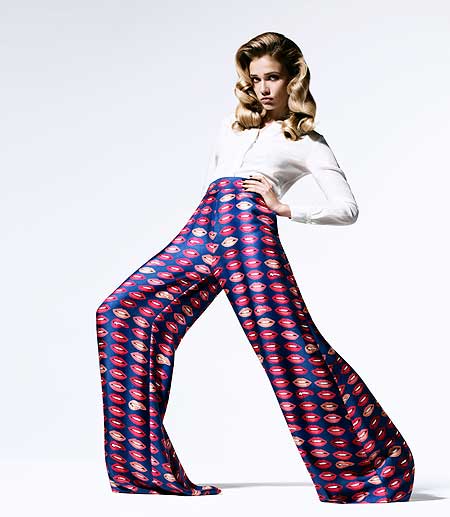 Florrie's got another EP coming up. It's a six track epic and there's a brilliant song on it called 'I Took A Little Something'. There are a couple of other brilliant songs on it, too, but 'I Took A Little Something' is the most brilliant of the lot. It sounds wistful and puising and mel­an­cholic and hypnotic and effort­lessly beautiful.
We wanted to do 'I Took A Little Something' as Song Of The Day today but we were not allowed because they want to focus on another song from the EP, called 'Experimenting With Rugs'. Unfortunately that song is not one of the EP's above­men­tioned brilliant songs and is, in fact, not much good at all, so that was the end of that.
Perhaps they are keeping the good stuff to give the EP an 'extra push' later on down the line or something
Either way, we found it inter­est­ing that Florrie herself admitted in a
recent blog post about what she's doing and why's she's doing it that
hers is not exactly a chart­both­er­ing sound in today's pop climate. The sort of freedom she's allowed herself to embrace (or resigned herself to) is pretty standard in the altern­at­ive music world but still quite note­worthy in the world of the pop artist.
It made us think of our recent mention of Sophie Ellis-Bextor's single 'Starlight', and how much easier it is to be a fan of an artist when you either dis­con­nect yourself from any expect­a­tion of success or simply accept that they'll never have another hit single. It's a great feeling not to have to worry on an artist's behalf. We've been thinking similar things regarding the bizarre Popjustice
forum thread on the new Sugababes single. There's so much hope in there,
so much optimism that 'Freedom' could see the Sugababes back in the Top
5. People are getting them­selves quite worked up about it all but wouldn't they be happier if they didn't have to worry about it at all? It's quite a big ideo­lo­gical shift but if you can achieve this higher state of fan con­scious­ness life really is a lot easier.
Having said that we would like to see Nicola Roberts in the Top 10 come Sunday.