Difficult times for staff at EMI, who are facing job cuts and an uncertain future under a new regime. No such problems at Universal — they're making CD sleeves with glitter on them! And embossing!
Pictured here in the Popjustice office dog basket are pro­mo­tional compact discs by Leon Jean Marie (left) and The Feeling (right).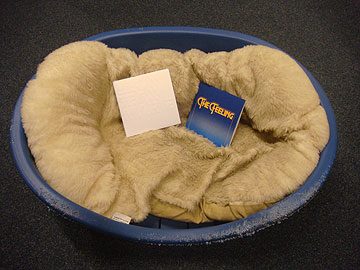 Let's take a closer look at each CD sleeve.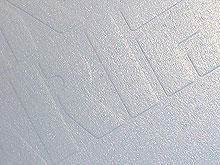 1. Leon Jean Marie
This man has three first names — first male, third female, second 'ambiguous'.
Leon's CD comes in what appears to be a white sleeve, but on closer inspec­tion the sleeve comes alive with an amazing 'mother of pearl' glitter effect.
The embossing is of a high standard (front and rear) and there is also an 'inner sleeve' (no embossing) for an extra feeling of quality.
8/10.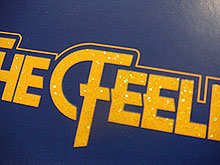 2. The Feeling
Dan from The Feeling also has three names — one male, one surname, one elided intrans­it­ive verb.
On the front of their album sampler CD, the band's logo has been treated with a brilliant pink and green glitter. On top of the glitter is a pro­tect­ive layer of shiny plastic, but this is only around the logo — the rest of the cover boasts a stylish matt finish.
9/10
In Conclusion
The Feeling's CD sleeve wins because it's probably quite easy to pick a nice shiny bit of cardboard and tell a printer to make a sleeve out of it, emboss some words in it etc. Printers probably have that sort of card lying around all the time and make wedding sta­tion­ery out of it. The Feeling's glitter, confined to the sleeve's logo area, seems a lot more 'bespoke'.
Also, while Leon Jean Marie's album sampler looks nice QUITE LITERALLY in a certain light, The Feeling's is dual-purpose — with its blue and yellow design in low light it is easily iden­ti­fi­able as a The Feeling CD, but when it is under direct light the sparkles come to life. It is stylish, yet practical.
Well done The Feeling, but also 'good effort' Leon Jean Marie.
Please don't email in about the elided intrans­it­ive verb business.