As you will have noticed, today's song of the day is, in one sense, the new Sophie Ellis-Bextor single. In another more important sense it is a BRAND NEW TONY LAMEZMA REMIX. (You can listen to it here.)
Keen Girls Aloud-watchers will already be familiar with the world of Tony Lamezma, a kind of rein­carn­ated, post-mil­len­nial Motiv‑8 whose ever-so-slightly com­mer­cial dance remixes do unthink­able and unspeak­able things to songs like 'Biology'. Tony's Sophie remix is also very brilliant and it means that the next time we compile a Lamezmathon CDR for some Friday afternoon listening it will have more than one artist on it.
So: last year, Tony had only ever remixed one act — Girls Aloud. This year, that number has doubled, to include Sophie Ellis-Bextor. This leads us to wonder what will happen if, every year from now, the number of acts receiving a Tony Lamezma remix continues to double.
It is time for a graph.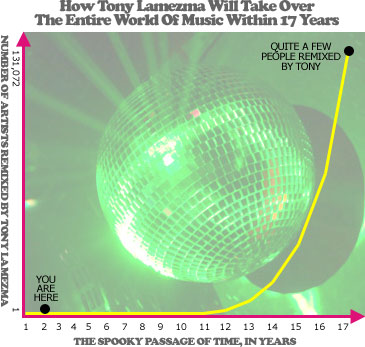 Things start off a bit slowly, admit­tedly, but things start getting really inter­est­ing in about 2018.