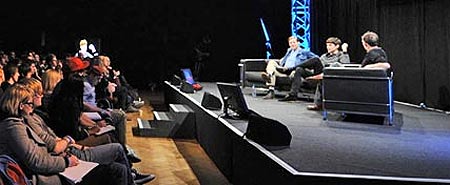 BBC Introducing is doing 'a thing' today where loads of people do talks and 'panel dis­cus­sions' about the world of music.

YOU CAN WATCH THE WHOLE LOT LIVE ONLINE HERE AT THIS BIT OF THE INTERNET.
There are 18 in total and here are the good ones.

STUFF TO TUNE IN FOR
11:00: "Mistajam in Conversation with Magnetic Man, Ms Dynamite and Wretch 32." This will probably be quite interesting.
12:45: "Brian Higgins from Xenomania shares tips about writing hit songs."
14:30: Mike Pickering will be talking about various bits and bobs. He is an enter­tain­ing chap and will no doubt have some LOLS but also some SAGE ADVICE.
15:45: A session called 'Recording', in which "BBC engineers and our house band walk you through a complete recording session". Has the potential to be a bit boring, could easily be very interesting.
16:30: Blurb: "Jen Long hosts a session about how to get yourself heard in a digital world, with David Haynes (Soundcloud), Mike Duce (Lower Than Atlantis), Paul Smernicki (Universal) and enter­tain­ment lawyer Cliff Fluet." Paul and Cliff will be good. We don't know about the other two.
17:30: Question Time hosted by Huw Stephens — this panel includes George Ergatoudis from Radio 1 so is inter­est­ing by default.
MAYBE GIVE THIS A WIDE BERTH

11:15: Guitars. This session is actually just called 'Guitars'. We are promised "Newton Faulkner, Aziz Ibrahim and Chantel McGregor look[ing] at what gui­tar­ists can do to improve their per­form­ances". We'll tell you right now what gui­tar­ists can do to improve their per­form­a­ces: go down Cash Converters and trade their guitars in for a keyboard.
You are welcome.