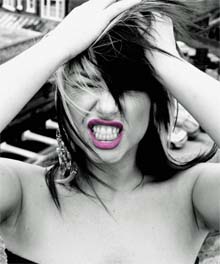 We recently inter­viewed Luciana of Crush, Portobella, Bodyrox and several other pop projects to discuss her future as a poten­tially amazing solo 'artiste'.
If you are too busy to read the whole thing, here are the five key points of the interview.
1. She does an actual wee in her 'Bigger Than Big' video.
2. She has been writing songs for Kylie Minogue, as one does.
3. She is allowed to be rude to people because she is a popstar.
4. She is going to put all the good Portobella songs on her solo album.
5. She believes Harry Secombe the image of a 'good man'.

Read the whole (and at times amusing) Luciana interview here.
We also have six VIP tickets to the launch party of the 'Bigger Than Big' single in a scary part of North London this Saturday night. We are not sure what the VIP bit will entitle you to — it may simply mean you are not knifed on the way out — but Luciana will be there and she will do some singing.
If you would like to go, email us before midday tomorrow (Friday) at [email protected] and tell us what you did last weekend.
Whoever had the worst time gets to go. Here is the flyer.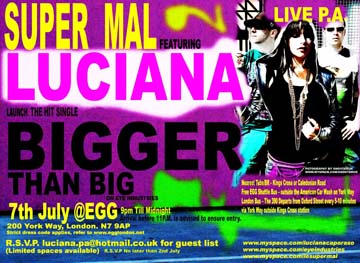 A mas­ter­class in graphic design, we think you will agree.