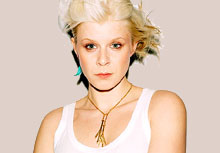 We inter­viewed Robyn a few weeks ago. Chances are you haven't noticed it because of the great big advert that's been covering the button. But it's over there on the right >>
She was very nice indeed and was in the middle of a spin-cycle when we called. If you've not read the interview yet, here are some key facts you missed:
» It was her pants she was washing.
» She is very likely to leave the country when people do not do as she asks.
» Her last two albums were not up to scratch. (Her words.)
» Her version of 'Keep This Fire Burning' was superior to the Sir Beverley Knight attempt.
» She is releasing an EP in this country very soon. It has been eight years since the last Robyn record.
The rest of the interview is right here.