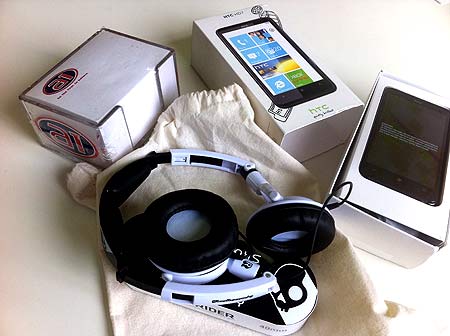 Right you lot, settle down at the back. Would you like:
1. A Windows Phone HTC HD7 handset thing?
2. Some Skull Candy head­phones with a Windows logo on them?
And how about if we were to say that for a bit of 'wow factor', we're also throwing in:
3. A box of A1 Post-It
(probably not actually Post-It) notes we found while having a clearout
recently?
You are probably in a state of high excite­ment right now, right? Right.
We are not exactly sure why we are giving this away but a lady said "do you want to do a com­pet­i­tion for your readers to win a Windows Phone" and we thought, "well, nobody says no to a new phone do they", so here we are. But there is a musical side to things too, readers. The lady who sent the prize over explains that the phone is "ideal for festivals and other summer activ­it­ies as it has Facebook and photo sharing at its core. By simply swiping their finger, a user can update their status in a few seconds".
The old 'upload Facebook photos really easily when you've had a few drinks at a festival' feature sounds like a recipe for disaster to us but if you would like to win the phone, the head­phones and the A1 rock mem­or­ab­ilia you need to send us a picture you have drawn, painted or 'digitally created' (ie in Paint or something) of a popstar using a telephone. Send your picture — along with your name and age — to [email protected] and we will pick a winner on Monday (August 15) afternoon.
Very good.