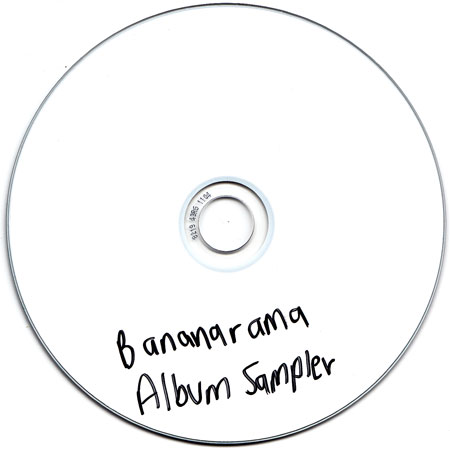 Here is a CD we received recently. It includes five new songs by Bananarama ahead of a full album release in a few months. First up, however, is a single.
FOUR IMPORTANT POINTS ABOUT THE NEW BANANARAMA SINGLE
1. It's produced by Ian Masterson.
2. It's written by Bananarama.
3. It's called 'Love Comes'.
4. It's out in August.
A FIFTH IMPORTANT POINT ABOUT THE NEW BANANARAMA SINGLE
5. It sounds like THIS
[audio:lovecomes.mp3]
As you can hear it is a massive balls-out pop belter and it's perfectly com­ple­men­ted on the sampler by a couple of more elegant electro tracks and one or two songs you may or may not recognise from The Annals Of Pop.
There's plenty more that we would like to tell you but we told everyone on Twitter that this would be online at 1.11pm and it's already late so you will have to make do with this for the time being. Keep an eye out on YouTube over the next couple of days, though, as Bananarama's Isle Of Wight festival appear­ance may well make its way online…