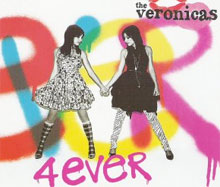 Here's a bit of a surprise: in September, over four years since it was ori­gin­ally released in Australia, The Veronicas' incred­ible single '4Ever' will be released in the UK.
The song — a Max Martin epic from the same TXTspeak-friendly genepool as 'U + Ur Hand' and 'Since U Been Gone' — has been bundled onto the end of the UK edition of the band's new album 'Hook Me Up' (which itself is two years old). On the artwork the song appears with two † symbols next to it. That's because this song is TWICE AS GOOD AS JESUS.
Here is the original video for the song.
httpv://www.youtube.com/watch?v=gmwzvc_BGRA

How good is this song? So good that it survives even THIS treatment from The Vines.
httpv://www.youtube.com/watch?v=QcbqA6ncmfE

Can you imagine a world where The Vines actually wrote songs that good? IMAGINE IT JUST FOR A SECOND. Incredible.