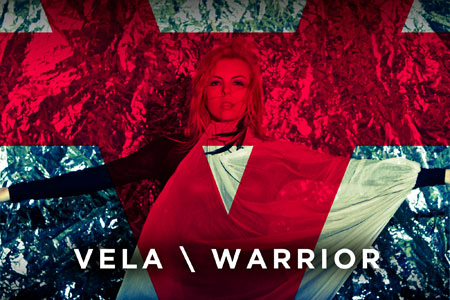 We've featured 'Warrior', the latest song by brilliant new artist Vela as today's Song Of The Day (there's a download link on the SoundCloud page if you want it in our iTunes and frankly why wouldn't you) but we thought you might like to see the video, too.
It was made by Vela with musician/borderline popstar/'visual artist' Ramdaq whose old band,
Loebeat, once scored their own Popjustice Song Of The Day with the rough but very
ready 'Second To Love'.
As well as having something of a way with a pop tune Ramdaq (SPOILER ALERT: his real name is 'Peter', in many respects the best of all Christian names) has a strong visual style and seems to have found his perfect muse in Vela. We think Ramdaq co-produced this song as well as doing the video but we're not sure, there's no direct con­firm­a­tion in our inbox and frankly if you want invest­ig­at­ive journ­al­ism why don't you email 'Donal Macintyre' and see what HE bloody knows about Vela and Ramdaq. Not very much, we bet. Not very much at all.
Anyway here is that video. Contains flashing and arm-waving.
This is one to keep an eye on, we reckon — she's signed to All Around The World and there's more due next year.