» 'Boy Ain't Right', one of the songs from their debut album 'Gaslight', is today's Song Of The Day.
» We know it is terribly time consuming to have to look at a whole different page of the internet so here is the songclip for you to listen to right here and now.
[audio:readerswifes.mp3]
» Readers Wifes are Kim Phaggs (Vocals) Chelsea Kelsey (Vocals) Mark Satanic (Guitar/Keyboards) Jeremy Kimberley (Keyboards). If you can find ANYTHING on the whole of Popjustice.com more obviously copied and pasted from a band's MySpace page you win ten pounds.
» The band once wrote a thing for us about how to save pop and most of those points are as pertinent today as they were whenever it was they wrote it for us.
» Readers Wifes make a point of putting complete hornbags in the bottom left hand corner of their album sleeves.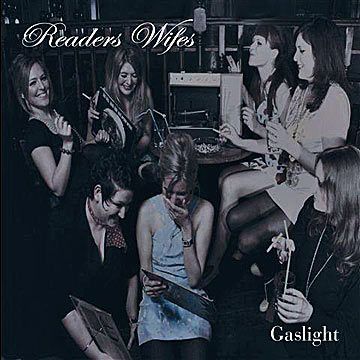 » The above-mentioned album is available to download from Tesco and if that's not the absolute defin­i­tion of 'living the dream' we don't know what is. The album includes all the hits except for the ones it doesn't include.
» That is the long and short of it.