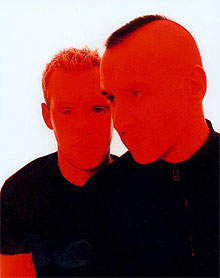 Last February we wrote about the (then brand new) Van She mix of 'Something Good', a popular music hit from the 1920s by dance combo Utah Saints. There was a load of waffle along the lines of it being fairly listenable.
We also said something about how good it would be if the remix was released and in two months the remix will indeed hit the shops on Data Records. It's already been Number One on the 'Cool Cuts chart' which is appar­ently quite a good thing if you make danceable music.
We saw the band play live on countless occasions back in the day — head­lining their own shows and sup­port­ing everyone from Take That and East 17 (at the same event — amazing) to Hawkwind (less amazing), so we're a bit upset that we'll be thousands of feet above the Atlantic when the band take to the stage at Cargo tonight. You should stick your heads around the door, though, then email us to tell us how it went.
More details (plus their slightly mental unre­leased remix of Edwin Starr's 'War') at www.myspace.com/utahsaints .