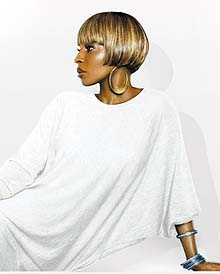 If Radio One decides to play your single, and unless your name is Unklejam or Ali Love, you can pretty much sit back and wait for your Top 60 hit to roll in.
Here are the latest people who the BBC have decided are good enough to be listened to by The Youth Of Today.

Biffy Clyro 'Who's Got A Match'

Hairy like Magic Numbers, boring like Magic Numbers.


Mary J Blige 'Just Fine'
Old school R&B about how brilliant everything is when you are Mary J Blige.
Goldfrapp 'A&E'
The new, quiet Goldfrapp is obviously popular in some quarters. Thank goodness for that.
Kylie Minogue 'Wow'
This wasn't going to be her second single from 'X' but now it is because some people down­loaded it after she did it on X Factor and then Radio 1 started playing it. It is nice to know that after all the painstak­ing plotting and trend­set­ting decisions, the Kylie brigade are def­in­itely not now at a stage where they'll do anything to chase the merest whiff of interest in a track. :(
Out Of Office 'Break Of Dawn'
Some not very exciting dance music. It is too cold to dance at the moment anyway.
Simple Plan 'When I'm Gone'
Another song for people who are bored with waiting for the next My Chemical Romance album.
It might also be worth pointing out that Radio Two has A‑Listed Gwen's 'Early Winter' while Radio One is choosing to ignore its presence. Both stations are playing com­pletely different versions of 'What Hurts The Most'. It is a funny old world, isn't it.