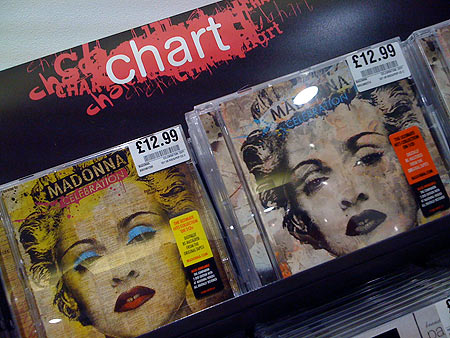 Here's part of an album display in HMV in which two different editions of Madonna's 'Celebration' hits col­lec­tion are on sale at the same price — £12.99. The one on the left is the 2CD edition, while the one on the right condenses it all down to one disc.
The options:
Disc 1
1. Hung Up
2. Music
3. Vogue
4. 4 Minutes
5. Holiday
6. Everybody
7. Like A Virgin
8. Into The Groove
9. Like A Prayer
10. Ray Of Light
11. Sorry
12. Express Yourself
13. Open Your Heart
14. Borderline
15. Secret
16. Erotica
17. Justify My Love
18. Revolver

Disc: 2
1. Dress You Up
2. Material Girl
3. La Isla Bonita
4. Papa Don't Preach
5. Lucky Star
6. Burning Up
7. Crazy For You
8. Who's That Girl
9. Frozen
10. Miles Away
11. Take A Bow
12. Live To Tell
13. Beautiful Stranger
14. Hollywood
15. Die Another Day
16. Don't Tell Me
17. Cherish
18. Celebration

1. Hung Up
2. Music
3. Vogue
4. 4 Minutes
5. Holiday
6. Like A Virgin
7. Into The Groove
8. Like A Prayer
9. Ray Of Light
10. La Isla Bonita
11. Frozen
12. Material Girl
13. Papa Don't Preach
14. Lucky Star
15. Express Yourself
16. Open Your Heart
17. Dress You Up
18. Celebration
So you buy the one on the left, right? MAYBE NOT. Some people would happily opt for the shorter but more 'pure' (and quite con­spicu­ously 80s-flavoured) Madonna greatest hits. They would, in fact, probably pay a pound more for the con­veni­ence of not having to skip past 'Don't Tell Me', and they might, for example, see the final four tracks of CD1 as being 'a con', because they don't like them so why should they pay for them? Let's not forget value for money. You might think it's better value to get two CDs full of music, instead of just one. WRONG. If you don't like 12 of the 36 tracks in the 2CD edition you're wasting £4.32 of the £12.99, whereas if you like 16 of the 18 tracks in the 1CD edition you're only wasting £1.44 — that's a £2.88 saving which, in these difficult economic times, is not to be sniffed at.
It would be inter­est­ing to know how many copies of the 1CD version HMV have managed to shift — we bet they've sold a few, even when the 2CD edition is right there next to it. And do you know what? For a lot of people the one on the right might actually be the best choice. If you can look at a track­list­ing and say 'I LOVE EVERY SONG ON THIS
CD', isn't it better than looking at a track­list­ing and going 'there's
a lot of filler on here'?
Either way it's good that HMV provide a choice for the intel­li­gent, dis­cern­ing customer.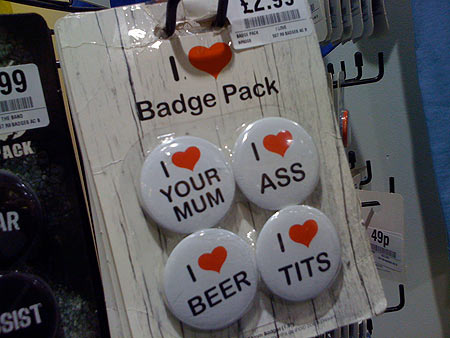 Oh dear.