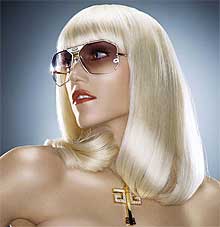 The Gwen album 'Sweet
Escape' is slowly leaking and it's not all as bad as the single:
'Wonderful Life', 'Flourescent', 'Early Winter', 'Breakin' Up' and
'Don't Get It Twisted' are brilliant pop tracks. (The video for 'Wind
It Up' is here, if you haven't seen it yet.)
Mary J Blige is gearing up for the release of her Greatest Hits with the release of an amazing new song called 'We Ride (I See The Future)' — listen to it here.
Dirrrty Pop have a great track-by-track review of the new Margaret Berger album.
The Britney album is taking shape.
Oh, and Sophie Ellis-Bextor is back in February with 'Catch You'. (It's the best thing she's ever done, FYI.)