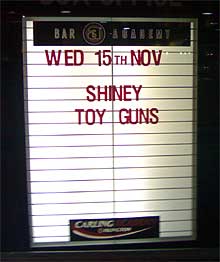 We went to see 'Shiney' (ahem) Toy Guns do a gig in London last night.
Since we last wrote about them their label have used our phrase 'emo­tron­ica' in a press release, which is obviously hilarious because we imagine the band them­selves are utterly horrified about the whole thing.
Anyway it turns out they are VERY good live. Sometimes they seem like they should be sup­port­ing The Killers in some sort of enor­modome, and sometimes they seem like they should be doing a sweaty PA at The Cock. Presumably they will end up doing both within the next twelve months. We wonder whether they will manage to pull off the 'being two bands at the same time' thing? Fortunately of course someone else has to worry about that sort of thing and, while they are having lots of meetings about 'pos­i­tion­ing', we can just get on with loving the album.
Based on A) last night and B) the album, we think lots of people will like Shiny Toy Guns. Having said this we may have over­stepped the mark slightly when we told a Kerrang journ­al­ist who'd turned up to review the (pre­sum­ably dreadful) support act that she should write about Shiny Toy Guns instead. Although, having said that, perhaps Kerrang readers would like decent music (ie not a load of old racket) if they heard about it. It's just a phase they're going through, they just haven't met the right pop band yet, etc etc.
(Shiny Toy Guns play in Liverpool tonight then visit Manchester, Stoke, Dublin and Glasgow — more info on their MySpace page.)