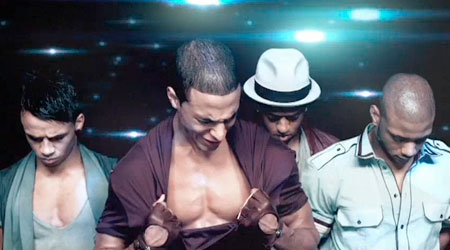 It is for 'One Shot'.
It was not shot in one shot.
It is basically the same as the 'Beat Again' video except slightly different.
You can watch it here.
httpv://www.youtube.com/watch?v=eV_WunW1KR8

There's some brilliant ser­i­ous­face action from Aston through­out the video but par­tic­u­larly at the 2:51 point.
It includes some "bright dancing", the craze that swept the nation during the 2009 X Factor in spite of nobody actually a) doing it or b) really having a solid idea of what it was and c) it not actually sweeping this or any other nation in any way shape or form.
At the 2:52 point, Marvin does a 'cleavage reveal' just like the one in the Gabriella Cilmi video. So much for 'bright dancing' — cleavage reveals are where it's really 'at' in the world of the teen 'tribe'. (Except Marvin is not exactly a teenager any more and is an old duffer in boyband terms.)
That business with the magic micro­phones at the start doesn't really work, does it. It reminds us of this.
httpv://www.youtube.com/watch?v=P3UERgsGIDc

The End.