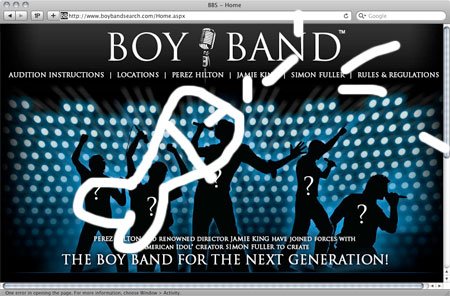 This will be one to keep an eye on: Simon Fuller, Jamie King, gossip blogger Perez Hilton and someone with access to a clipart library have teamed up to launch Boy Band (they seem to have trade­marked 'boy band' — incred­ible), in which males aged between 13 and 21 are audi­tioned for "the boy band for the next generation".
Simon Fuller, quoted on Perez's site: "I'm delighted to be working with Jamie and Perez. Boy bands have always been at the heart of pop culture with huge potential to excite a massive audience both here in the States and the rest of the world. With Jamie and Perez at the helm we have a real focus on what we are looking for. Together we will do everything to ensure that whoever is dis­covered becomes one of the most suc­cess­ful groups in recent years."
You've got until March 3 to upload your audition bits on www.BoyBandSearch.com. We actually can't wait to see what they come up with, par­tic­u­larly if Perez Hilton is involved creatively.