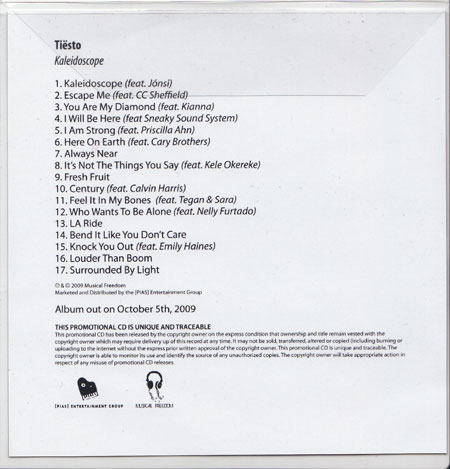 We've been 'a‑grooving' to Tiesto's 'Kaleidoscope' for precisely seven days and, do you know what, despite suffering slightly from what it's fair to call 'Rudebox Bloat' there's a great twelve-track album here fighting to get out. The Tegan & Sara, Calvin Harris and Kele Okereke tracks are among the high­lights but the tracks without guests are just as important to the album and if anything the pro­lif­er­a­tion of featured artists slightly dilutes the album's vision — obviously it's very important to chase a sense of 'legit­im­acy' and to provide people with 'an angle' but sometimes the album feels a little like it's chasing approval from people whose approval really doesn't matter. A bit like the worst bits of the Chemical Brothers 'oevre'. All of which sounds a bit moany but isn't meant to be because this album is, basically, top notch.
Here's the expensive-looking but ulti­mately fairly ropey video for the Sneaky Sound System col­lab­or­a­tion 'I Will Be There', which we had as a Song Of The Day a few weeks ago.
httpv://www.youtube.com/watch?v=5–5mGwyhruo

We're sure the treatment was very persuasive.