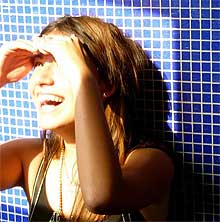 Remember we mentioned new singer Gabriella Cilmi last year?
No, not Adele, the other one.
No, not Duffy. The other one.
ANYWAY she has made a video for her first single 'Sweet About Me', which is out in March.


You can watch it 'exclus­ively' (OMG OMG etc) on Popjustice by clicking here.
Two choruses, viewers. Amazing.
There has been some debate on the Popjustice forums as to whether Gabriella is old enough to be a popstar. All we can say to this is that if someone's old enough to be sent up a chimney or to be paid £0.01 a week making trainers in poverty-stricken areas of the world, they're old enough to sing some songs.