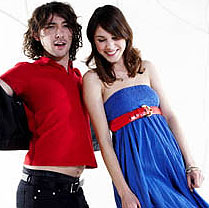 Popworld - the tele­vi­sion programme — has been axed.
This means that in the last couple of years we have lost Top Of The Pops, CD:UK (which is now NOT being revived by Channel 5), all the big summer roadshows, Smash Hits, Sneak, Popworld, any semblance of non-kitchen-based enter­tain­ment on a Saturday morning and about a million other little bits and pieces pop artists found quite useful in terms of 'letting people know a record was coming out'.
All of the above is the key reason why anybody hanging onto the idea that 'pop music goes in cycles, boybands will be back soon and so on' needs to have a serious think about whether, even if a new and poten­tially huge pop group even managed to get them­selves signed, there would be any way of an act kick-starting that new cycle.
Pop music has been frozen out of the main­stream media once and for all, largely by bigwigs who view The Twang as a bright new future for pop music and have no intention of catering for music they and their friends don't per­son­ally like.