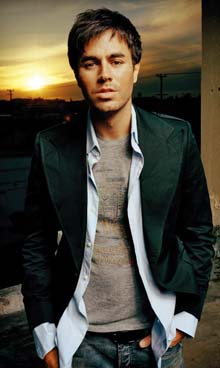 Do you know what it feels like loving someone who's in a rush to throw you away?
Enrique Iglesias does and he has done The Best Song Of His Career in order to tell us all about it. This brings his grand total of good songs to FOUR.
Let's have a chart rundown.
1. 'Do You Know (The Ping Pong Song)'
2. 'Escape'
3. 'Not In Love'
4. 'Bailamos'
It is not exactly a 'Maneater'-style rein­ven­tion but 'Do You Know' is still very very good and one rave-up remix away from being one of the ten best pop singles of the year so far.
The 'ping pong' bit of the song's title comes from an amazing innov­a­tion in pop per­cus­sion involving the sound of a table tennis match becoming a drum noise. What with table tennis being a past-time exclus­ively enjoyed by naturists and prisoners we dread to think what 'inspir­a­tional pursuits' Enrique's been enjoying over the last three years. Wandering around with his cock out and/or being imprisoned for being JUST TOO ROMANTIC to be allowed out in polite society, we presume.
There is also a version of the song called 'Dimelo' which is the same song sung in foreign, yet the ping pong noises remain because they are noises which cross con­tin­ents, cultural bound­ar­ies and all language barriers.