We meant to write about this the other day but on account of a slightly unpleas­ant hangover we did not. Basically after the Siobhan showcase we got a cab (two cabs, in fact — it was all very exciting) to see THE GREATEST BAND OF ALL TIME play a London show. The whole 'London' aspect of the show was inter­est­ing because they are not from London and are, in fact, from Abroad.
They are Alphabeat, who we've mentioned before (admit­tedly about eight years after some of the web's better euro­popspot­ters), and they look like this.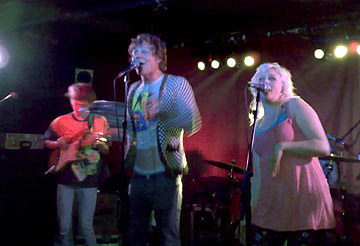 That's right, viewers: Popjustice's highly-paid pro­fes­sional live pho­to­grapher was at the gig too. There are some band members — the same amount AGAIN — not in shot here. Also not in shot:
1. That nice man from St Etienne who after­wards said Alphabeat were very good.
2. A lot of A&R people no doubt wondering how suc­cess­ful a cross between Junior Senior and The Kids From Fame would be in the UK. (Here is a clue: VERY. Completely huge. Bigger than the Arctic Monkeys and Triple 8 put together.)
3. The rest of what was going on at the London Water Rats. Why do we keep ending up there? Unfortunately this time there were no bottles thrown through the window like when we went to see Lorraine (everyone's a critic, etc etc) and the gig wasn't delayed for an hour BECAUSE THERE WAS A WAKE HAPPENING IN THE MAIN ROOM like when we went to see Paul Steel. It was an eventful night nonetheless.

So there you go.