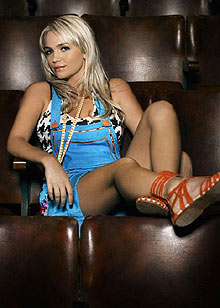 It is probably time that we stopped pre­tend­ing that this Stephanie McIntosh thing wasn't happening now that her single 'Mistake' has been scheduled to be released in the UK for some explic­able reason.
Stephanie McIntosh — who you may recognize if you do not have to go to work between Monday and Friday — is Skye from Neighbours.
At home in Australia she has been keeping a keen eye on the roller­coaster success Ashlee Simpson has been enjoying over the past few years (Chicago with Brenda, new nose, getting shagged by Pete Wentz etc) and wants herself a piece of the same barely-there guitar pop pie.
Her single is called 'Mistake' (oh what a terrible… etc) and is due to be released in the UK on 18 June so there is plenty of time for the hysteria not to build in the slightest for a TV actor who probably never wanted to be a TV actor in the first place and her under­whelm­ing — if not actually chronic — single.
For every Kylie Minogue there has been a Michelle Gayle, a Sophie Lawrence, a Sean Maguire, a Malandra Burrows, an Adam Ricketts, a Nick Berry, a Sid Owen, a Holly Valance, a Tracy Shaw, a Kevin Kennedy, a Tricia Penrose, a Stefan Dennis, a Gayle and Gillian, a Craig McLoughlin and a million more — so in a few years time she could find herslef back on Ramsay Street with a wooden leg, trying to get herself elected into the Conservative party or worse, shagging David Gest.
And if the point in hand has not been proven already, a quick look at the Pac-Man Pie-Chart of ratio between TV actors and the success of their sub­sequent chart careers should cement the fact.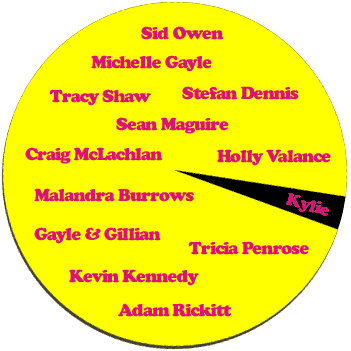 But while between the above list a handful of decent pop records were released, the complete lack of interest in any of these people as long-term popstars should have put an end to this Stephanie McIntosh thing long before it started but for some reason money is still being spunked in her direction — money that would be better used if someone opened the window and tossed it into the wind.
Still at least she should be relied upon to be good at acting in the video — which you can watch by clicking right here if, again, you do not have a job or anything important you should be doing at this present moment in time.