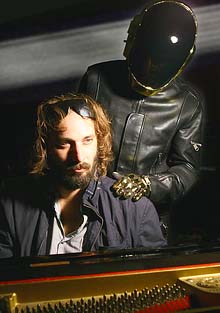 Sebastien Tellier is one of the biggest names in French music although due to his enormous beard he is not regularly mentioned around these parts.
ANYWAY, on his new album 'Sexuality' Sebastien Tellier has teamed up with one half of Daft Punk. We spoke to Sebastien recently and he told us, in no uncertain terms:
»
He is not com­fort­able in the presence of naked men.
»
He has seen the inside of Guy Man's helmet.
»
He hopes people will become sexually aroused when listening to his new album.
»
He is not a fan of lifting up ladies' skirts.
»
He does not always pay for his dinner.

Hurrah. Click here to read our interview with Sebastien Tellier.