It's a confusing business, so let's find out what's happening — with this week's issue of Music Week.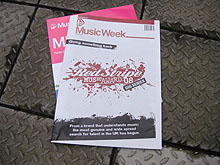 PRETEND COVER
This week's Music Week cover tells us all about the Red Stripe Music Award 2008 Gig Series. This is really just what the music industry needs: a new search for unsigned indie talent. You might think this is cynical but it is not because the advert­ise­ment tells us that this is "from a brand that under­stands music".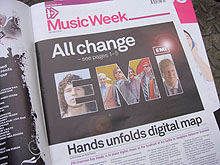 PROPER COVER
Apparently something has happened at EMI in the last week. General gist of story is that Guy Hands' new vision for the company centres on digital music. This is certainly a brave vision from Terra Firma, con­sid­er­ing sheet music and wax cylinders are taking over as THE music formats for the 21st Century.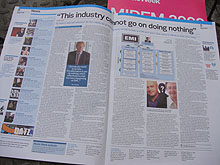 PAGES 2–3
More stuff about EMI. Guy Hands says "somebody needs to do this… The altern­at­ive is you do nothing". He does have a point.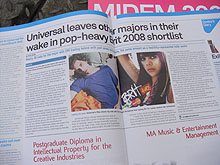 PAGES 6–7
Universal Music have done quite well in this year's Brits nom­in­a­tions, with nearly 30 nom­in­a­tions across their various labels. EMI are happy Bat For Lashes has been nominated for Breakthrough Act, but think she is an "outside bet".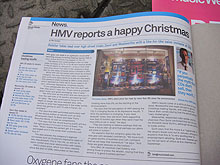 PAGE 8
HMV sold more than eight compact discs in December.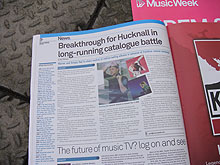 PAGE 10
Mick Hucknall has won the right to take as many copies of the Argos catalogue as he likes from his local branch. This follows a messy incident in 2004 when he was banned from the Crawley branch following attempts to load up his car with over 200 copies.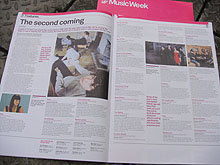 PAGES 12–13
Some people who have pre­vi­ously released albums will be releasing new albums in 2008. These include Annie, whose as-yet untitled new album features col­lab­or­a­tions with Franz Ferdinand, Girls Aloud and Datarock and kicks off with comeback single 'I Know Your Girlfriend Hates Me' (produced by Richard X) in a few months. The Kooks also have a new album out. :(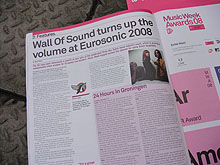 PAGE 14
Wall Of Sound had a nice time in Amsterdam.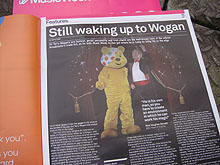 PAGE 17
A nice chat with Terry Wogan.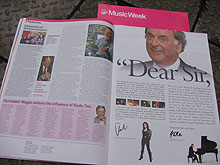 PAGE 19
An advert­ise­ment taken out by MIKE BATT AND KATIE MELUA. It has "Dear Sir" on it in big letters. It's two open letters thanking Terry Wogan for being so very fucking amazing in the past. "Here's to many more years of success for you," says Melua, by which she really means "here's to many more years of you playing my records please thankyou".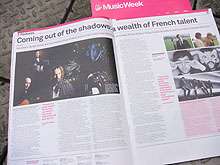 PAGES 20–21
People in France make quite good music. These people include Justice and Sebastien Tellier. This week's copy of Music Week comes with a frankly bloody amazing free CD of French music including Camille, Bertrand Burgalat and The Do, which is with £4.50 of anyone's money. (FOUR POUNDS FIFTY??!!!!)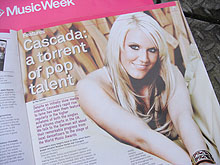 PAGE 23
Music Week have gone CASCADA MENTAL!!! This page includes a chat with Cascada about how they have conquered the world. Their label's MD says that "the plan is to create inter­na­tional high-quality dance music", which if nothing else is proof that people who work in dance music sometimes do have a sense of humour.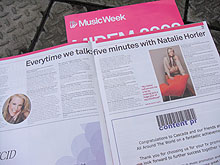 PAGES 27–28
The Cascada coverage continues. This time it's an interview with the band's yeller Natalie. She reveals:

"I actually don't do a lot of the writing."

"I like all sorts of music."

"My motto is 'try to take each day as it comes'."

"I've always loved clubbing."

"I take each day as it comes."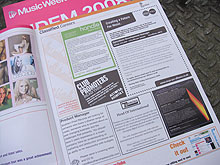 PAGE 29
Let's see if there are any jobs. Well, Domino are looking for a new Head Of International. That's quite a good job. The MCPS-PRS Alliance is looking for an Operations Development Manager. The pay's not great, but you do get to work in Streatham. Oh, and 9PR are looking for a new press officer.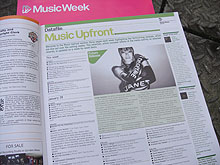 PAGE 31
This is stuff that's being released in the next few weeks. Janet Jackson's got an album coming out. LA Reid says that "this is def­in­itely the beginning of the next chapter for Janet". We think that by 'chapter' he means 'post­script'. Music Week have also chosen Adele's 'Chasing Pavements' as Single Of The Week, pre­dict­ing that "2008 will be the year of the South London singer-songwriter".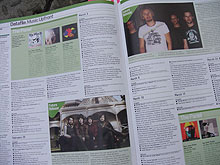 PAGES 32–33
More stuff about what's coming out soon. People In The Know pick their favour­ites. Mike Walsh from Xfm picks 'Trash' by The Whip (hurrah) while NME's Priya Elan goes for George Pringle's spec­tac­u­larly-titled 'Poor EP… Poor EP Without A Name'. This spread also reveals that Shed Seven's 'The Singles Collection' is coming out next week. Hahahaha.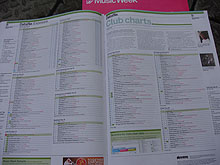 PAGES 34–35
Airplay, boring.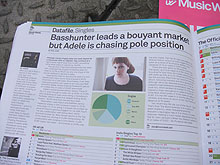 PAGES 38–39
A thing about Basshunter and Adele. Now those are some porn pictures we wouldn't want to see.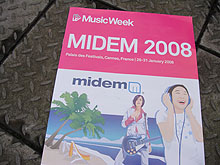 PULLOUT
Something about Midem. Midem is the name of a con­fer­ence where people go to talk about things. People pretend Midem is held in Cannes but it's just a big music industry con­spir­acy and it's really held in a motorway service station on the M1. All the pictures from it are faked, like the moon landings.
So there you have it. That's what is happening in the music idustry. If you do happen to find yourself in a large newsagent in the next few days we do recommend that you pick up a copy if only for the CD which, as we mentioned above, is Really Very Good.