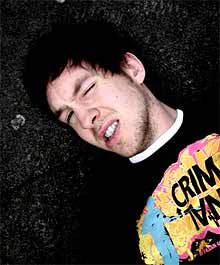 » Roisin Murphy is "a bit mental".
» He is — according to himself — the nicest person in the business of music and most other people are unpleas­ant. (NB This might seem a bit harsh in the interview but he is basically 'on the money'.)
» He tries to fob people off with shit remixes then gets in a strop when they go "hang on that remix is a bit shit".
» His favourite Kylie song is — sound the 'slightly con­cern­ing news' siren — 'German Bold Italic'.
» He would like to go into space but does not trust Bono to make this happen.
» He will not be head­lining Live Earth.