It's the X Factor final this week so, in case you're not quite sure who to vote for, we thought we'd give you a quick run through the finalists.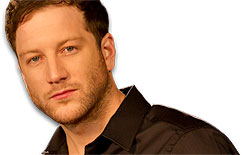 MATT CARDLE
In a nutshell: Imagine Shayne Ward and Steve Brookstein are brothers. Now imagine they have a third brother who people refer to as 'the boring one'. That's Matt Cardle — a charisma black hole with a lovely voice used mainly to sing songs made famous by ladies while wielding a crap acoustic guitar. Famous for wearing a hat, then famous for wearing a vest.
Vote if: You like the idea of Damien Rice but find the reality too outlandish.
Don't vote if: You think The X Factor should — or at least can — be about something a bit less naff than a ladies man in a hat singing emotional cover versions.
REBECCA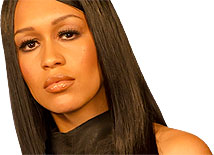 FERGUSON
In a nutshell: Smoky-voiced, highly likeable warbler who dealt impress­ively with the pressure of the whole X Factor thing, seemed to lose ground slightly by sticking too much to one (downtempo) style of song then totally really came into her own during Club Classics week with this barn­storm­ing per­form­ance of Show Me Love.
Vote if: You think there's something rather special about her voice and would be inter­ested to see and hear what is done with her as an X Factor-winning priority. Also because, of this year's final four, Rebecca is the one who seems least likely to be guar­an­teed a decent record deal.
Don't vote if: You fear lazy 'n' dodgy ballads lie ahead.
CH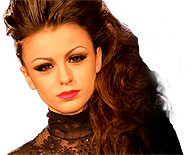 ER LLOYD
In a nutshell: Has done little to distance herself from being the face and voice voice of self-entitled young Britain. One minute is banging on about 'swagger' and 'showing the haters', the next is as fragile and wobbly as a trifle in a hurricane. During the live shows this just-about-above-average rapper and nice-but-not-extraordin­ary singer has failed to scale the same heights as she did in her first audition, but with the right song choices could totally pull it out of the bag on Saturday night. Also in her favour, it's quite con­ceiv­able that she would have an incred­ible first single, a stu­pendous second single and a messy if diverting debut album, but as a popstar she may have trouble avoiding trouble and/or public slanging matches — reading between the lines of (and simply reading) various news reports she seems pretty poorly equipped to deal with the grim and relent­less task of life in the public eye. Recently prompted Daily Mail outrage by waving spoon in the direction of an X Factor crew member.
Vote if: X Factor cliches aside, you feel we actually might not yet have seen the best of Cher. Vote if you feel that away from the glare and pressure of weekly Saturday night showdowns this artist, still only 17 years old, might — with the right guidance and patience — find the strength to become something a little bit special, or turn the little-bit-special abilities she already has into something all together fantastic.
Don't vote if: You think that while a girl who can sing and rap to a basic standard might be something The X Factor has been missing for a long time, the world at large does not consider this anything special.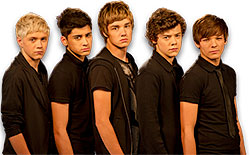 ONE DIRECTION
In a nutshell: Five-piece boyband whose defin­i­tion of har­mon­ising begins and ends with 'singing pretty much the same song at pretty much the same time'. In classic boyband style they consist of three amazing ones and two rubbish ones and are a bit ropey at per­form­ing live but that's nothing a few months of aggress­ive chroeo­graphy won't sort out. AMAZING HAIR.
Vote if: You fant­astise about being made airtight by a group of five 16-to-18-year-olds.
Don't vote if: You are well aware that, as Simon Cowell's favourite act in the contest, One Direction have already 'won' this year's X Factor and will be just fine whatever happens, meaning that a vote for One Direction is in fact a wasted vote.
We'll be voting Rebecca.