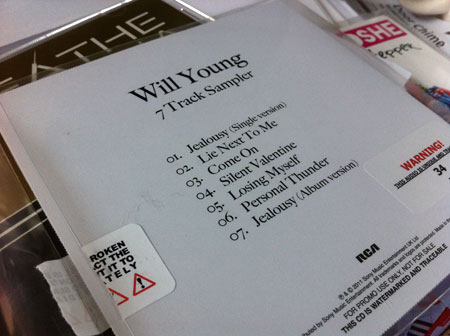 We've become com­pletely obsessed with the new Will Young album — or six songs from it, at least — since it arrived in the post last week.
Listening to it on repeat has been the easy bit, although while the songs are all very elegant and confident and elec­tronic (but also warm) and very instantly among Will's best ever, it's proved sur­pris­ingly hard to put into words just how amazing it all is, and why that amaz­ing­ness has proved so irres­ist­ible. But amazing this album certainly is. These are our iTunes star ratings, for a start, and you know us well enough by now to know that we do NOT mess around when it comes to the purity of the iTunes star rating.

Our favourite song off the sampler is 'Silent Valentine' (which sounds
like a very sad Christmas) while the Bronski Beat-esque 'Losing Myself'
seems to be the song that best joins the dots between this album and the Groove Armada
col­lab­or­a­tion that set the wheels for this whole new sound in motion.

Some bits off the press release:

» Album release: August 22.
» Single release: August 21.
» It's coming out on the 10th anniversary of Will's first Pop Idol audition.
» Richard X has produced the whole thing.
» Will's been writing with Jim Eliot (amazing), Andy Groove Armada (amazing) and Pascal
Gabriel (amazing).
» According to the press release, "the sweeping strings and key changes of his hit ballads have made
way for syn­thes­ised melody, towards something sparer and more con­trolled. 'I
had to learn to undo my musical muscle memory,' he explains. 'To allow space
into the music.'" (It's basically the perfect comedown album.)

Here's the single, which got its radio debut this morning.

[youtube]5OfFaO-pUf8[/youtube]

Please note that while we usually worship at the altar of the radio edit, the album version of the single is in fact a little bit better, partly simply because it goes on a little bit longer but also because the intro unfolds with more power.

Basically, the remaining seven songs could be the sound of Will Young
swinging a toaster around his head and this would still be one of the
albums of the year.

Here's the full tracklisting.

1. Jealousy
2. Come On
3. Lie Next To Me
4. I Just Want A Lover
5. Runaway
6. Outsider
7. Silent Valentine
8. Losing Myself
9. Personal Thunder
10. Hearts On Fire
11. Happy Now
12. Good Things
13. Safe From Harm

Hurrah.