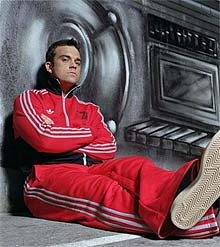 :: Robbie has been in the papers a lot this week for not being nominated much at The Brit Awards and living on coffee, cigar­ettes and Red Bull. He is probably a bit jittery. We send him BIG LOVE.
:: Brit Awards nothing for Lily Allen something for Amy Winehouse etc etc…
:: Liam Gallagher is not sorry for Robbie Williams and his problems.
:: Lily Allen has been pho­to­graphed looking 'teary' (maybe hungover) on the morning after the Brit Awards. She also had some sort of fight with Amy Winehouse at the show.
:: A Milli Vanilli movie is being made.
:: Jamelia has taken all her clothes off and posed with a rabbit for an anti-fur campaign. She looks quite nice, it must be said.
:: Kylie has asked her fans to ease up a bit on her ex-boyfriend Olivier Martinez.
:: In an odd move to promote the second series of her TV show, Charlotte Church has said that the first series was rubbish. Truly, the Noel Gallagher of terrible late night telly hosts.
:: Amy Winehouse claims to only drink when she is bored.
:: Will-I-Am from Black Eyed Peas has had a diamond encrusted bluetooth headset made. As you might imagine, he looks ridicu­lous in it.
:: Apparently, Duncan James is going to win 'Dancing On Ice' due to him having an enormous cock. Thank you for the inform­a­tion, Simon Webbe. (NB: We have seen Duncan with a 'semi' and it didn't look that massive.)
:: Lily Allen has been fighting in Australia with rubbish rock band Jet and had to be saved from a fight with Mike Skinner by her mates Kasabian.
:: Britney has put all those lesbian rumours behind her by spending a night partying with half dressed strippers.
:: Gary Barlow reckons that his kids don't know he is a pop star. Evidently, neither does his stylist. (Etc etc.)
:: Despite appar­ently now doing it with singer Ray J, Whitney Houston has been having dinners with ex-husband Bobby Brown.
:: Emma Bunton has said that all the Spice Girls want to get back together but none have been ready at the same time. Ladies, stop dicking about and either shit or get off the pot.
:: Britney Spears' former assistant has 'begged' Britney to get help to clean up her life.
:: It's all about The Brit Awards to be honest. Take That didn't mention Robbie and Russell Brand was mod­er­ately con­tro­ver­sial. End of.
Have a good weekend,
PJx