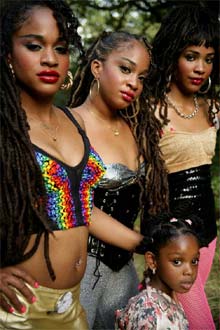 We have been keeping an close eye on The Real Heat for a while now to see what the hell they are all about.
After much delib­er­a­tion (that's 'delib­er­a­tion' in the sense of 'remem­ber­ing to do a thing about them') we have come to the con­clu­sion that they might be the best new band of the 2007 that we haven't already written about.
Here are some reasons for that.
» They are essen­tially a bril­liantly foul mouthed and modern Mis-Teeq.
» Three out of four songs on their MySpace page are amazing, meaning they have recorded as many truly amazing songs as Bob Dylan, Nirvana and Lisa Scott-Lee PUT TOGETHER.
» Lyrics such as 'I wanna fuck fuck fuck but your heart's not in it' imme­di­ately set the band apart from being a bit like Snow Patrol.
» None of the above-mentioned songs are ballads.
» The small one in the picture isn't an actual band member FYI.
» They manage to straddle the genre boundary between gay electro and urban electro quite deftly. 'Mixed audience' ahoy.
» They call them­selves Shaki, Zaza and Suki.
» Simon Cowell says of them: "The Real Heat are like how I take my coffee; dark, hot and sweet". He hasn't signed them though. He must be a tea drinker, eh viewers!?11??
'Hotgirl' and 'Stand And Deliver' are available to download for free from their MySpace page. Which is right here.