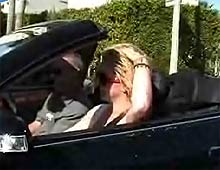 :: Britney Spears did some sort of peanut butter sick all over her boyfriend's hand while he was driving her around America.
:: Jo O'Meara is never going to win Celebrity Big Brother. This is mainly because she referred to the magical art of love­mak­ing as 'a good pounding' on national television.
:: Take That have made some sort of 'swing' influ­enced new video.
:: Chris Moyles has invited his 6.79m listeners download 'Honey To The B' by Billie and now it is going to be in the charts. It will probably sell about 5000 downloads, which is good news for Chris because it shows he can inflence well over 0.07 of his dedicated fans.
:: Preston from Non-Racist Celebrity Big Brother has failed his driving test.
:: Matt Willis is going to try some TV present­ing at this year's boring old Brit Awards. He says that this is because nobody is inter­ested in his albums, only the fact that he ate a bumhole.
:: 'Spiceworld' has been named the worst film of all time by the sort of people who vote in polls.
:: Heidi Sugababe's boyfriend is planning to get his big gay mates the Scissor Sisters to play some songs at their wedding.
:: Kylie was told not to do all those concerts but ploughed on ahead with them non­ethe­less. Now, we're no trained GPs, but we do think she should PUT HER FEET UP AND CHILL OUT A BIT.
That was the week in pop.
Have a nice weekend!
PJx