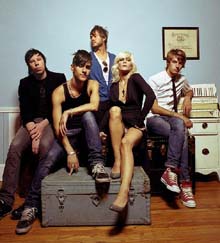 Right, let's get this straight from the off. The Sounds are one of the best bands you are going to hear this year, live or on record.
We can be sure of this because we spent last night squashed in an indie boozehole watching them singing songs.
They are basically The Killers with a mental blonde woman at the front, instead of a Mormon with a moustache. Although we will have to double check on the no-moustache situation because we were right at the back due to the place being full of people who arrived very early ('on time') to get a good seat.
Anyway, here is a brief run down of why they were good and why The Sounds are the best Swedish band in the world right now.
» All their songs sound like singles. The ones which sounded most like singles were 'Tony The Beat' and 'Painted By Numbers', which is fortunate because they are going to be the first singles released in this country. You can listen to both songs here etc.
» You can also listen to 'Ego' on their MySpace. It was their final song and featured a Glittertastic twin-sticksman drumoff at the front of the stage.
» They have a brilliant singer who could probably wrestle a bear to death if she wanted. Fortunately, this is not a pastime she seems inter­ested in pursuing for the time being. Nice chest too. (See picture above.)
» They didn't fuck around with any encores. They came, sang some songs and went away again. Thank you very much The Sounds.
That is it really. The band are very good. Their new album is brilliant. They are very good live.
So there you go.
OTHER BANDS WE HAVE SEEN AT THE VENUE IN QUESTION
1. Orlando. Where are they now etc.
2. Dirty Blonde, ie Matinee Club two name-changes ago.
3. Protocol. Where are they now etc.
4. Lorraine. Where are they now etc.
5. Countless indie losers.