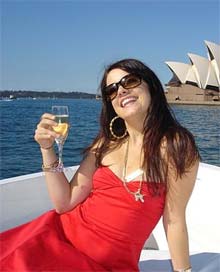 :: Lily Allen is starting to sell loads of records in America — 'Smile' is this week's highest new entry on the Billboard 100. Despite this she does not reckon she is going to win anything at the Brit Awards.
:: Joss Stone has done something dreadful to her hair. It is now big, red and curly.
:: Emma Bunton has got a new puppy.
:: Mika fans are so wacky that they like to ballroom dance at his gigs. Funny.
:: Lock up your sons, Hilary Duff is back on the 'dating scene'. And quite fero­ciously too.
:: The dwarf from Stereophonics has been arrested for doing a wee in the street. Funny that he should be in the news, could it be that he has a new record coming out????
:: The Beautiful South have split up!!! They are probably hoping for a similar outcry to when Spam and Subbuteo announced similar plans.
:: More lists of Jennifer Lopez' ridicu­lous backstage demands have been revealed. Her current needs include lo-watt light­bulbs and Skittles.
:: Jamelia has spoken about stories of her husband cheating on her. He didn't, but some woman did tell everyone that he had.
:: Amy Winehouse has admitted to only starting on the booze to get herself away from smoking cannabis.
:: Matt Willis has had a big boozy arguement with his girl­friend Emma on a night out in London. Maybe he should take up cannabis to get himself off the booze.
:: Kelly Osbourne does not like the Japanese because of the toilets that make bird noises to stop you hearing other people farting. If she'd said that on Big Brother she'd have death threats by now.
:: Robbie Williams has built himself a £800,000 indoor football pitch at his LA mansion.
:: There is some spec­u­la­tion that Kylie's boyfriend may have been cheating on her. He probably hasn't been.
:: Jo O'Meara's agent died two days after she was evicted from the Big Brother house and she went on GMTV to make everything better but instead con­trib­ut­ing to one of the most harrowing pieces of pop TV you'll see all year.
Have a good weekend!