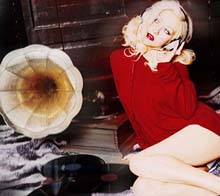 :: Christina is appar­ently employing a prop she is calling a 'burning wheel of death' in her upcoming tour.
:: Britney is divorcing her rubbish husband. This can only result in good things for pop.
:: Sarah Girls Aloud is going to be the breasts of bra company 'Ultimo'.
:: Keisha Sugababe has distanced herself from the Amelle / Barlow cunt-off.
:: Lily Allen has been given some clothes by Chanel. Straight on eBay, eh?
:: Kylie has invited Robbie Williams to spend Christmas with her.
:: Matt Willis is going on 'I'm A Celebrity…'. Good profile, etc etc.
Have a good weekend!