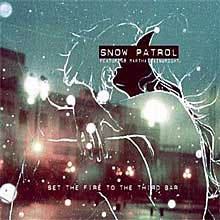 Snow Patrol & Martha Wainwright
'Set The Fire To The Third Bar'
Snow Patrol are a terrible act who keep making brilliant records. Martha Wainwright is a brilliant act who keeps making terrible records.
Snow Patrol are still a terrible act but 'Set The Fire To The Third Bar' continues their run of brilliant records AND gives Martha Wainwright her first.
It is a song which makes you want to BURST INTO TEARS ON THE BUS without knowing why, ie the best sort of song on the face of the planet.

Also out this week…

SINGLES: Justin Timberlake's 'My Love' is the runner-up Single Of The Week but sounds less amazing than it did before Omarion's 'Icebox' cantered into view, 365's 'One Touch' is great but not great enough, Robbie's 'Lovelight' doesn't quite do the job either, Oasis' b‑side re-releases are the absolute epitome of will-this-do Greatest Hits efforts, Christina's 'Hurt' is so boring and sonically offensive that we have offi­cially Gone Off Her again, The Charlatans' 'You're So Pretty, We're So Pretty' is beyond per­func­tory, Betty Curse's 'Girl With Yellow Hair' is brilliant and Radar's '5th Columnist' is, we believe, very good indeed.
ALBUMS: Westlife's 'The Love Album' proves that it is literally impossible to go wrong with 'Total Eclipse Of The Heart', George Michael's 'Twenty Five' makes ABSOLUTELY NO SENSE, Sugababes' 'Overloaded' is one of the century's best col­lec­tions of modern pop music, Simon Webbe's 'Grace' is like the first album, except again, Depeche Mode's 'Best Of Vol 1' is unsur­pris­ingly listen­able, and Staind, who have had three hits only one of which went Top 20 and none of which were in the last three years, are releasing their greatest hits. Oh and the All Saints album is out too, it's very good, go and buy it, etc etc etc.