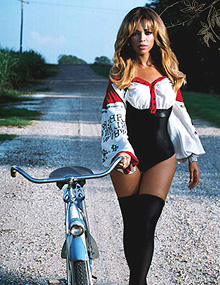 :: Beyonce didn't get any Oscar nom­in­a­tions but that girl from American Idol did. Sod Helen Mirren, all eyes are now on Rosie Ribbons for next year's BAFTAs.
:: Lisa Scott-Lee fell over, popped out a rib on the telly and her boobs in the tabloids.
:: Jamelia has taken off most of her clothes for her new video, 'No More'. She would also like girls to make sure they always have condoms in their wallet in case their clothes fall off too.
:: There is going to be some sort of unne­ces­sary chart battle between Ben Mills and Ray Quinn from X‑Factor when they both release albums on the same day. Ben Mills has also had his hair cut like a great big woman and Bloody Ray Quinn is going to be in the Take That musical someone is making.
:: Sabrina from Mis-Teeq has been banging on about how Alesha is doing OK after the whole Hyltongate debacle last year.
:: Britney appar­ently made a teenage fan cry when she ignored an autograph-hunting girl in a res­taur­ant. To be honest, the fan should count herself lucky she didn't get Britney's flaps flashed in her face.
:: Victoria Newton exclus­ively revealed that she found the new Norah Jones album a little bit boring. First with the news, as ever.
:: Mika has hired Freddie Mercury's piano for some reason or other. Mika is also going to support Take That on their European tour.
:: Jamelia (again!) was doing something in a school (maybe some overtime cleaning) and tried to buy lunch on her credit card in the canteen and it was all very embarassing.
:: Hugh Hefner doesn't want Kelly Osbourne to get naked for Playboy magazine. At all.
:: The Streets' Mike Skinner nearly 'died' on a fair­ground ride in Australia when a safety bar broke. Ferris wheels — the new rock and roll.
:: Amy Winehouse was thrown out of a posh London hotel for singing by a piano.
:: Kylie has admitted that perhaps yes, she did overdo things a little bit on her tour.
:: Matey from the Arctic Monkeys has been putting punters off their pints in a Liverpool club after going hammer and tongs at it with some old lady.
:: Get ready for everyone saying that Girls Aloud are all over: Nadine Coyle has moved to LA with her very waxed boyfriend.
:: Danny McFly has joined Harry McFly and Harry McFly's girl­friend on a romantic break for two. Harry McFly wasn't very pleased.
Have a nice weekend!
PJx