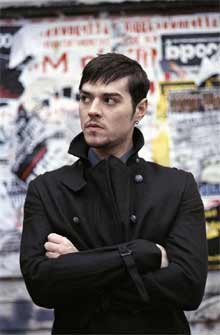 :: TV's Matt Willis has proposed to his TV girl­friend, TV's Emma Thingy.
:: Melanie C wants a baby. A new fringe might not go amiss as well, 'love'.
:: Nadine Girls Aloud's big American boyfriend has gone into rehab for his booze problem. Maybe it's all the Guinness. (Nadine is Irish you see.)
:: McFly have made up some absolute rubbish about wanting to be the first band to go to outer space.
:: P. Diddy is going to Coleen Almost-Rooney's infernal birthday party.
:: Justin Hawkins claims he is the victim of racism after not being chosen to represent the UK at Eurovision. We thought this was quite an amusing comment at first until we remembered that his singing partner was in fact black and that he was therefore probably serious. What a tragic farce of a man.
:: Kylie and Dannii Minogue have had a nice day out at the Australian Grand Prix. Lovely.
:: Louis Walsh has signed up to appear on a BBC rival to The X‑Factor. It will almost certainly be shit like when the BBC did their rubbish version of You've Been Framed (the greatest TV show of all time, obviously) called Caught In The Act.
:: Bald Britney is going to give Bald Kevin Federline £10million for their divorce settlement.
:: Lily Allen has ended her feud with genius DJ Peaches Geldof, although whether there was a feud in the first place is open for debate.
:: The supposed Cee-Lo (Out Of Gnarls Barkley) and Paris Hilton sex tape was a load of old rubbish.
:: Amy Winehouse has struck up a friend­ship with Courtney Love appar­ently. They can only be good for each other.
:: Dermot O'Leary has turned down the chance to host the next series of X‑Factor. We still think Jimmy Savile would be a good bet.
:: Britney has come out of rehab. She's sorted herself out in a month. Well done Britney. Still bald though. She has also banned anyone pub­lish­ing anything about what she got up to in rehab. It was probably boring anyway, rehab not really being known for its thrill-a-minute excitement.
Have a nice weekend!
PJ x