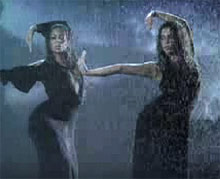 As we mentioned in Monday's mailout, the Shakira & Beyonce (vogueing, right) duet is one of those 'less than the sum of its parts' col­lab­or­a­tions which makes you wonder why anyone involved at any stage of the process (except the video which is quite good) didn't just stay at home and have a wank instead of getting involved in one of the most tedious 'n' snooze­some 'meeting of minds' since, er, the current UK Number One.
HOWEVER!
There is a Freemasons remix of the track which is actually brilliant. You can hear it here.
It sits very well alongside The Freemasons' 'Ring The Alarm' mix (here), the Chic-fuelled Luther 'Shine' remix (here) and the 'Deja Vu' reswizzle (here). We listened to the Freemasons album quite a lot before Christmas, too — it's a double CD with their own tracks jumbled up with some of their remixes and is therefore A Quite Good Idea.