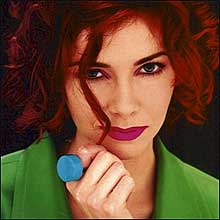 Here's something you may or may not have been expecting to read on a Friday morning in 2007: Cathy Dennis is back next year with a new album.

Music Week have the story and from that we can reveal (nick) the following:
» The artist name will be Sexcassettes.
» There will be an album and live performances.
» She's been co-writing and producing with Dr Luke, Greg Kurstin and Mark Ronson. That's the sort of list of col­lab­or­at­ors you'd usually expect to feature '…and Cathy Dennis', although in this case Cathy Dennis actually IS Cathy Dennis, which is both confusing and straightforward.
» Notes Cathy: "I
had an idea of starting a project for me to record a few new songs
where I sing. Now it is turning into something more
than that, as I have an album's worth of material to record and take on
tour."
» There's no record label yet because Simon Fuller wants it to be an organic 'n' creative process (ie get the whole thing finished before a load of major label A&Rs start 'sticking their oars in'.)
» Fuller also notes that "it's
very quirky pop music, with a real con­tem­por­ary guitar feeling".
» We hope this isn't going to be another Wigwam.
It's true that for every 'Toxic', 'Sweet Dreams My LA Ex' and 'Can't
Get You Out Of My Head' there's been a ropey S Club Juniors album
track, a dodgy A*Teens effort or a Gareth Gates fiasco, but we'd expect the quality control on this project to be fairly high.
Cathy's greatest solo moment to date:
httpv://www.youtube.com/watch?v=ac_Lup48kxI

'More of this please.'