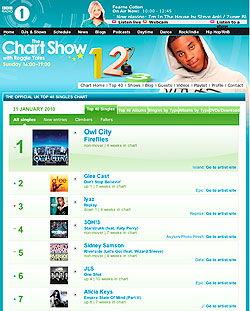 We don't know if this is the beginning of the end or a much-needed lifeline in the iTunes age but it's a bit of a weird one: from March 10 there are going to be TWO official UK singles charts every single week. One on Sunday, and one on Wednesday.
THIS IS HUGE.
Obviously, midweek sales figures are published to the music industry through­out the week and have been for years, but the new chart countdown will be unveiled on Radio 1 on Wednesday after­noons so it's 'proper' and everything. Afternoon DJ Greg James will do the countdown at half past three.
What it seems to mean is that if a song is the best-selling between Sunday and Wednesday (or Tuesday night) it will be 'Number One' in the Wednesday chart countdown, then if its sales sub­sequently slump during the rest of the week it will not be Number One on the Sunday. So will it offi­cially have been a Number One? The new chart rundown is being referred to as an "official chart update", but let's call a chart a chart. (It's a chart.) What if Girls Aloud's con­tro­ver­sial 'Untouchable' had been at 10 on Wednesday, and Number 11 on Sunday? Where would that have left their unbroken run of Top 10 singles?
We need cla­ri­fic­a­tion on this by the end of today. We're going out for lunch in a bit but if there's nothing official by 6pm we're declaring a state of emergency, taking control and making the decision ourselves.
There is a slim pos­sib­il­ity that this does not really represent massive news and is more just some clever spin for a new feature on the Greg James show. But still. TWO CHARTS IN A WEEK!
Further reading
» The Official Charts Company
» Radio 1 Chart Show
» Greg James
» Everyhit