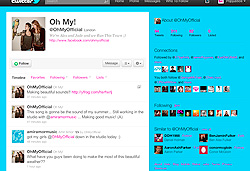 1. @OhMyOfficial
We featured them the other day and you probably saw what we had to say. Basically any act that names itself after a Tweet song should have a Twitter account BY LAW and here is Oh My!'s. 'Oh My!'s.' doesn't really look very sat­is­fact­ory punc­tu­ation-wise, does it? Particularly if you put it in single quotes. We'll need to work on this.
2. @itsYasmin
She's currently on tour with Eliza Doolittle — aka one of the 21st century's very worst popstars — but Yasmin's tweets are fre­quently funny, self aware and likeable. Most impress­ively, she recently spoke on behalf of all sensible people every­where when she announced "I'm gonna have to stop following people that RT every remotely nice thing people say to them. It does my head in". Perhaps Yasmin should have a word with Minogue, D.
3. @Buzzsonic
Buzzsonic is run by a 'music news content curator' (and former 99th Floor Elevator) who posts links to inter­est­ing music and industry stuff. The links are almost always amazing.

4. @eddychemical
Definitely the funniest of all the Chemical Brothers.

5. @EosChater
if someone said to you, 'guess what, the second violinist in that pop/classical string quartet thing Bond is actually really funny on Twitter', you would probably say 'oh fuck off although having thought about it for a second that's not the most unbe­liev­able thing I've ever heard so I'll give her a chance'. And you would be right to do so.
THE END.