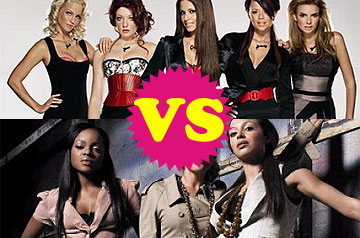 The facts: Girls Aloud and Sugababes both have singles coming out soon. Those singles are 'Can't Speak French' and 'Denial' respectively.
More facts: Both singles come with big gay stupid remixes. They are by Tony Lamezma and Sanna & Pitron respect­ively. Tony Lamezma is someone at Xenomania pre­tend­ing not to be Tony Lamezma.
Tony Le Mesmer was a guest on one of Alan Patridge's shows. Steve
Pitron is not a made up person and is in fact so real that he has his own MySpace page full of inter­est­ing pictures.
Some clips: Here are clips of both the remixes.
[audio:girlsfrenchremix.mp3] [audio:sugadenialremix.mp3]
'Blimey'.
Conclusion: It's basically poppers o'clock whichever way you look at it but Sugababes win this round, we think.