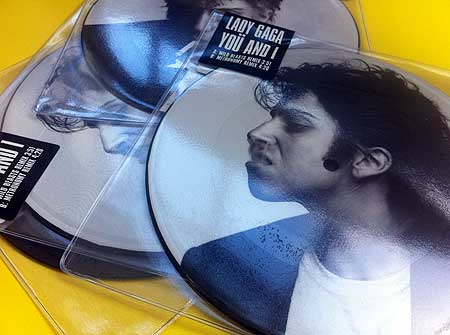 One of the things we like most about Lady Gaga — and we like a LOT of things about Lady Gaga, as we might have mentioned once or twice over the last three years — is that her UK label keep chucking out these amazing 7" picture discs for her single releases.

The 'You & I' one features remixes by Wild Beasts and Metronomy (don't worry about that though because let's face it they're not designed to be played) and we have three copies to give away. We are well aware that there are four in the pho­to­graph above but we all know that one of those is going straight on the wall of Popjustice HQ.

To enter this com­pet­i­tion, you need to do two things.

UPDATE: Stop entering, the exciting com­pet­i­tion is now closed. CHEERS EVERYONE.

In other news, let's have a look at Lady Gaga doing a brilliant per­form­ance of 'The Edge Of Glory' at that I Heart Radio thing last weekend.

[youtube]-jA3FTBfGmw[/youtube]

Immense.