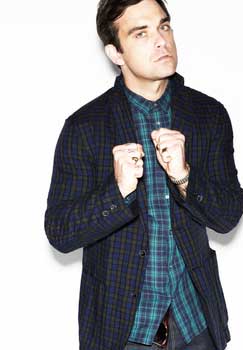 Yesterday we asked Popjustice's Twitter followers if there was anything they fancied knowing about Robbie's 'Bodies' single. Here are their (/your) questions with some answers.
karrade asks: robbie single.. is it beau­ti­fully written and produced but the vocals are cheap sounding?
No.
andre­wastew­art asks: Is it as good as Rudebox?
Yes.
miss_julia asks: what percent do you say "yes" to it? 100, 200 or 1,000,000%?
82%.
textsterSound like a Trevor Horn record!?
Not any specific one (although the middle eight did remind us a bit of Seal's 'Crazy'.)
ptm71 asks: Is it Che Guevara and Debussy to a disco beat?
No, not really, no.
RazorMouse asks: Is it any good?
Yes.
JanVH asks: Is the new Robbie danceable or does it need a Freemasons remix?
It's not danceable, a Freemasons remix probably wouldn't work.
tidusin asks: it will have a Stuart Price remix?
Don't know.
MRobDC asks: does it suck as much as his past few singles?
His last single was 'She's Madonna' so your question makes no sense, sorry.
joao92 asks: like most robbie williams songs does it suck?
See above.
dillan­gandhi asks: Should he have bothered?
Yes.
RandyFr asks: Does it sound like classic Robbie Williams cr*p or rather like classic Robbie Williams amazingness?
People who like classic Robbie Williams crap will probably like it but people who like classic Robbie Williams amaz­ing­ness will probably like it too.
sodthem­a­chine asks: is it a navel gazing whine about how he can't settle down and find love?
Not really.
JamieTrendy asks: is it as shit as anything on his last 4 albums?
It's not as shit as 'Sin Sin Sin'.
boroboy1982 asks: is it as shit as rudebox?
'Rudebox' the song? No, it's not that shit. (The album wasn't shit, obv.)
mryviebur­nett asks: rudebox or angels?
The bit in the middle.
TreatYourself asks: is there any chance of a free­ma­sons remix?
See above.
cosmicpinay80 asks: Is the single good?
Yes.
tommylaad asks: is it shit??
No.
coxyine17 asks: Is it donkable?
Where there's a will there's a way.
TheFunkyJunkies asks: does he sound all vunerable in it?
No.
pettis asks:: Tempo-wise, how does it compare to She's Madona?
It seems about the same.
tali­aagrace asks: question bout robbie's single: why cant he be as good as diana vickers?:(
Everybody needs something to aim for.
faust­shausuk asks: Was the Robbie single produced by DJ Jazzy Jeff?
No.
BozliMusic asks: — how shit is it?
7% shit.
I_Am_Sailing asks: given it is called "Bodies", is it co-written by Max Beesley and Keith Allen?
No. (Actually it might be but probably not.)
MicrofilmMusic asks: will it be as good as Rudebox?
The album? TBC.
hot_burrito asks: Is it shit?
No.
TomKei asks: How 80s does it sound 1–10? 1 being N‑Dubz, 10 being La Roux, with Gaga somewhere in the middle.
2.5.
patrick­de­vit asks: is it more Rock DJ or more Misunderstood in terms of amazingness?
More 'Rock DJ'.
milo2020 asks: shit?
No.
nasty­po­s­i­tion asks: what's the genre?
Mid-tempo Big Orchestral Robbie.
land­dupont asks: is the new Robbie single better or worse than "the '90s"?
Not quite as good.
MW_Jimmy asks: Does he rap on it?
No.
NicolaRobertsUK asks: A question? Hmmm, does he sing/rap about shopping at Tesco in it?
No.
pix­ieon­line asks: is his new single epic as his old old stuff?haha
Quite epic.
CassLowe asks: what's the oblig­at­ory 'Cheeky Robbie' line in it?
"I got laid on a leyline."
rob_fitzpatrick asks: how long is it
In CD form, five inches.
gems2712 asks: Will he make any money?
Yes.
alexneedham74 asks: Why did Pete Burns record I Promised Myself with a clothes peg on his nose? (To hold it on, perhaps)
Alex we've moved onto the Robbie single now, sorry.
gribiche asks: how shit is it?
Not very at all.
orches­trajb asks: who wrote it?
Robbie and someone else probably (we don't know).
LadyMeeks asks: How is it? Like "Rudebox"? Like "Angels"? Like "Let me entertain you"? Like "Me and My Monkey"? Like "Feel"? hahaa
Like a bigger version of 'Supreme'.
Ebschen asks: is Robbie single any good. Is it about aliens??
No.
VonBear asks: Is he still fat, and does this affect his ability to sing like a has-been pop star still?
He is not fat.
FeelingFan asks: Is it the right choice for a big comeback single?
Yes.
XxxxYvonnexxxX asks: what's it like I can't wait to hear it
It's literally quite good.
EdwardNeon asks: Compare Robbie's single to other song which sounds like it.
Something big with lots of strings in it.
Linn_SayItPR asks: Is it any good?
Yes!
ifit­s­notlove asks: is it any good?
Yes!!
jus­tanactor asks: any good?
Yes!!!
Fweebs asks: do you like it?
Yes!!!!
djmikepeters asks: is it any good? On a scale of Lovelight (brilliant!) to Radio (drivel)
We quite liked 'Radio'. :(
jdl0301 asks: Current song Robbie' single sounds the most like?
None.
crablin asks: if you had to review it by buying Robbie a present, what would you buy him?
A nice cake.
Poptastic asks: what's the best lyric in it?
A brilliant bit in the song's closing moments — "Jesus didn't die for you — what are you on?".
jonapd asks: will it be his last?
No.
josieallchin asks: Does it feature a mandolin?
No.
AllyFarrell asks: Is it of Escapology calibre?
Is this a trick question?
So there you go.