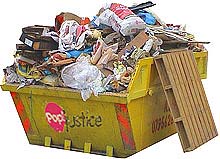 What has been going on in
the world of news?
» Brian
McFadden admis he was an idiot after he left Westlife
($200,000 hair stylists 'etc'). (Herald Sun)
» "It's a myth that
Leona [Lewis] is a mil­lion­aire." (The Sun)
» "Leona Lewis
is the first X Factor mil­lion­aire." (The Mirror)
» Bad news for fans of Mariah
Carey — she's on fire. (Daily Star)
» The Guardian invest­ig­ates the music industry's 'music which
is popular has value and you should pay for it / music we are
trying to make popular has no value and you should download it for
free' approach. (The Guardian)
» Madonna
has been telling Q magazine that musicians should not have to pay the
London Congestion Charge so that they have money for other things. (The Mirror)
» Scouting For
Girls have spent an entire interview pre­tend­ing not to be
the worst band ever. (The Mirror)
» Estelle
says that Adele
doesn't make proper soul music but because the music Adele makes
doesn't directly relate to Estelle's exper­i­ences in life.
(The Guardian)
Blimey.