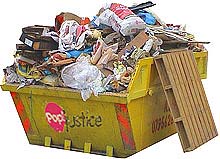 What has been going on in
the world of news?
» Glastonbury
ticket sales were quicker last year than this year. (The Guardian)
» Jay‑Z
is now married to Beyonce
(con­grat­u­la­tions etc etc) but there are rumours he might not play at Glastonbury because
he is in a huff. (The Sun)
» Feist
has won a load of awards at the Canadian Juno Awards. It's worth clicking through on this story to see Reuters' fairly good headline. (Reuters)
» If lip-syncing is good enough for Pavarotti it's good
enough for Mariah
Carey, surely. (The Guardian)
» Lily Allen's
hair has changed colour. (The Sun)
» Old people are very upset that young people copy CDs and
don't pay for them. Feargal Sharkey is still banging on about 'Teenage
Kicks'. (The Guardian)
What a boring day for 'news'.