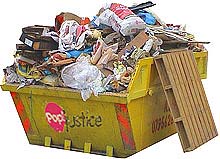 What has been going on inthe world of news?
» Duffyis going to get some free clothes from Dolce & Gabanna. This mustall be very exciting for her because they didn't have clothes in Waleswhen she was growing up. Didn't you know? There was no pop music inWales, and everything was in black and white. And it was just fields.Fields as far as the eye could see. The invention of fire was still some years off. (The Mirror)
» Amy isn't doing the James Bond theme after all. (Yahoo)
»
Girls Aloud
'slawyers are looking into a story in today's Sun about Cheryl Cole.
» Andrew LloydWebber thinks rejects from I'd Do Anything could "knockGirls Aloud out the window". Out OF the window, Andrew. Out OF thewindow. (The Sun)
» Something about SebastienTellier rep­res­ent­ing France at Eurovision. (The Times)
» The Hoosiershad a game of football withJames Blunt. The Hoosiers won. You can almost smell thetestoster­one, can't you. (The Mirror)
» The Guardian are quite­l­it­er­ally having afield day with the wholeJay‑Z/Glasto business.
Blimey.