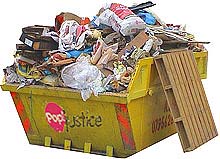 What has been going on in the world of news?
» Amy Winehouse is busy recording the new James Bond theme and might appear on stage with Jay‑Z at Glastonbury. (The Sun)
» Emily Eavis has been defending Jay‑Z's forth­com­ing appear­ance at Glastonbury, implying that people are racist. She is sure his per­form­ance will win people over. (Independent)
» CSS have lost a bassist. This, viewers, really is the day the music died. (The Guardian)
» The Guardian's coverage of The Jonas Brothers' London gig includes the line "world dom­in­a­tion will be kids' stuff" — a brilliant, 'res­ist­ance is futile'-type line which sums up a writer's fairly weary sense that a band aren't terribly good but, since they are being aimed at children who don't know better, will be huge anyway. (The Guardian)
» And finally, despite millions of us signing petitions demanding a follow-up to the multi-platinum inter­na­tional super­smash 'Tissues & Issues', Charlotte Church is going to go back to doing classical warbling. (Music News)
» Kylie is consoling herself over being less popular 'Stateside' than Leona Lewis — she's buying a bloody big house. (The Sun)
Blimey.