There have been some com­plaints that our defin­it­ive 'Hard Candy' coverage is somehow lacking so here's what you really want to know about: the goodie bag. Here it is.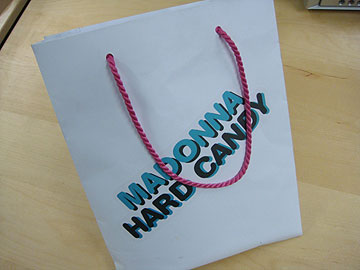 What's inside? Well there were some magazines with Madonna on the front, but these had to be left behind at the venue due to being too heavy to carry. There was a copy of Q, though, and a Vanity Fair. (FYI it's well known that Madonna only gets any press in the UK is because magazines want to secure that all-important Guillemots interview — the artists have the same PR company.)
What else is in the bag?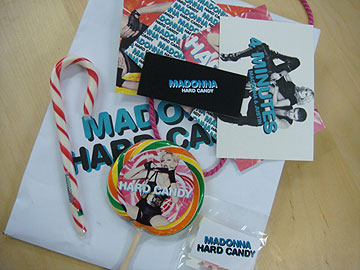 Some stuff. Candy cane without Madonna branding. Postcards of Madge on nice cardboard. Lollipop with 'Hard Candy' sleeve design. Some more sweets with 'Hard Candy' stuff on. In case you have missed the subtlety of all this, the album is called 'HARD CANDY' and the goodie bag contains some HARD CANDY.
Let's have a closer look.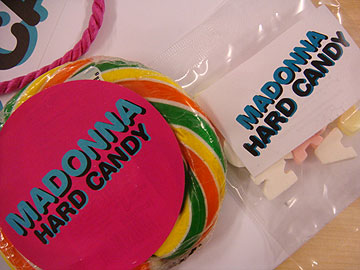 Let's have an even closer look.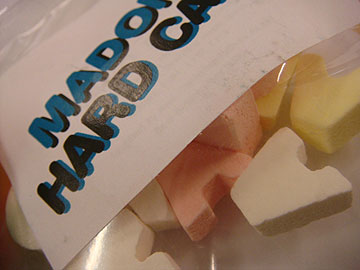 That's right — most of this amazing 'n' exclusive Madonna stuff is just NORMAL STUFF with Madonna stickers on. No expense spared, etc etc. We wonder what other 'Hard Candy' pro­mo­tional items there are? We will invest­ig­ate and get back to you.